---
Presidensi G20 dari Masa ke Masa
Dipublikasikan pada
11 months ago

, Redaktur:

Andrean W. Finaka,

Riset :

Rosi Oktari

/ Desain :

Edy Pang

/ View :

2.429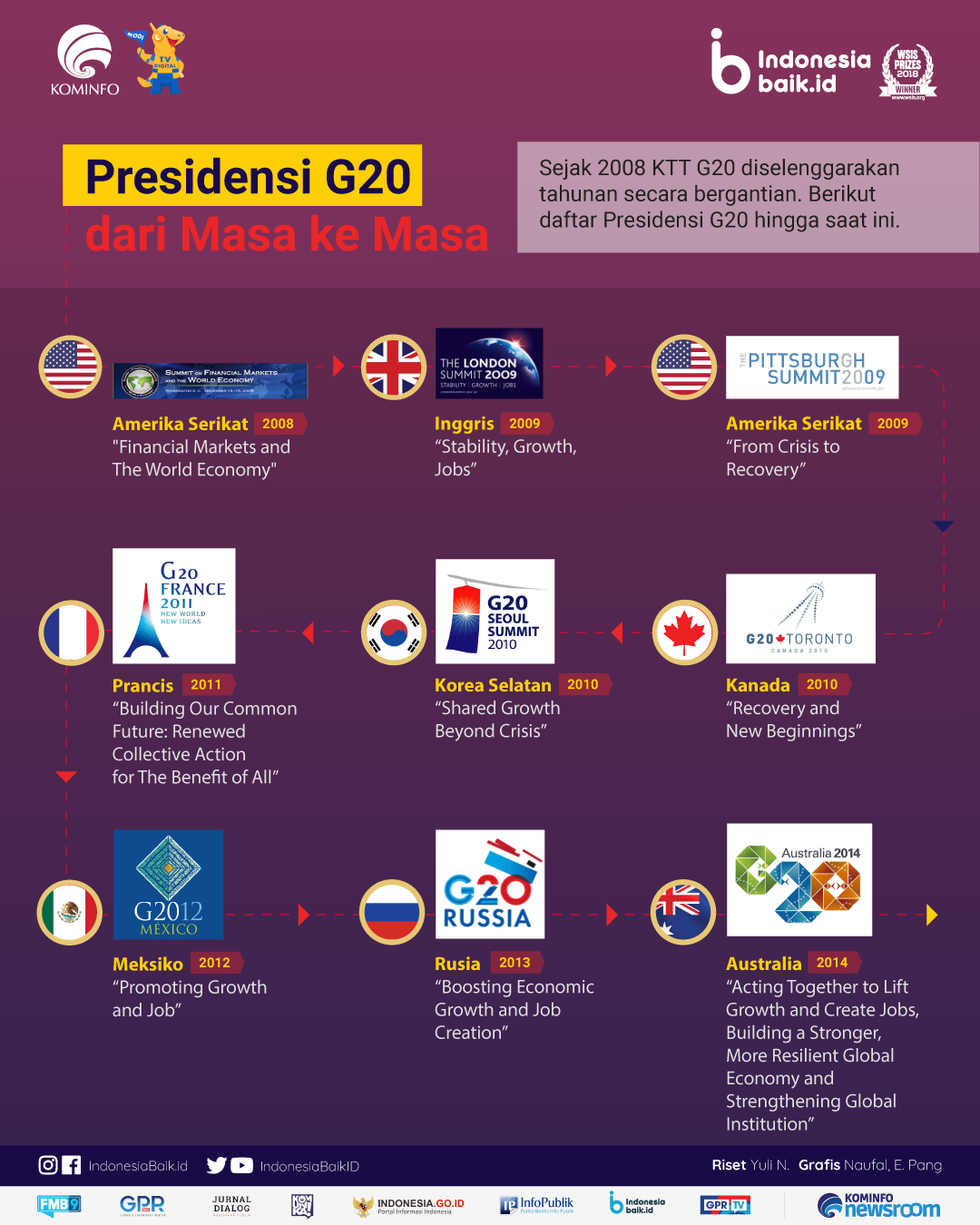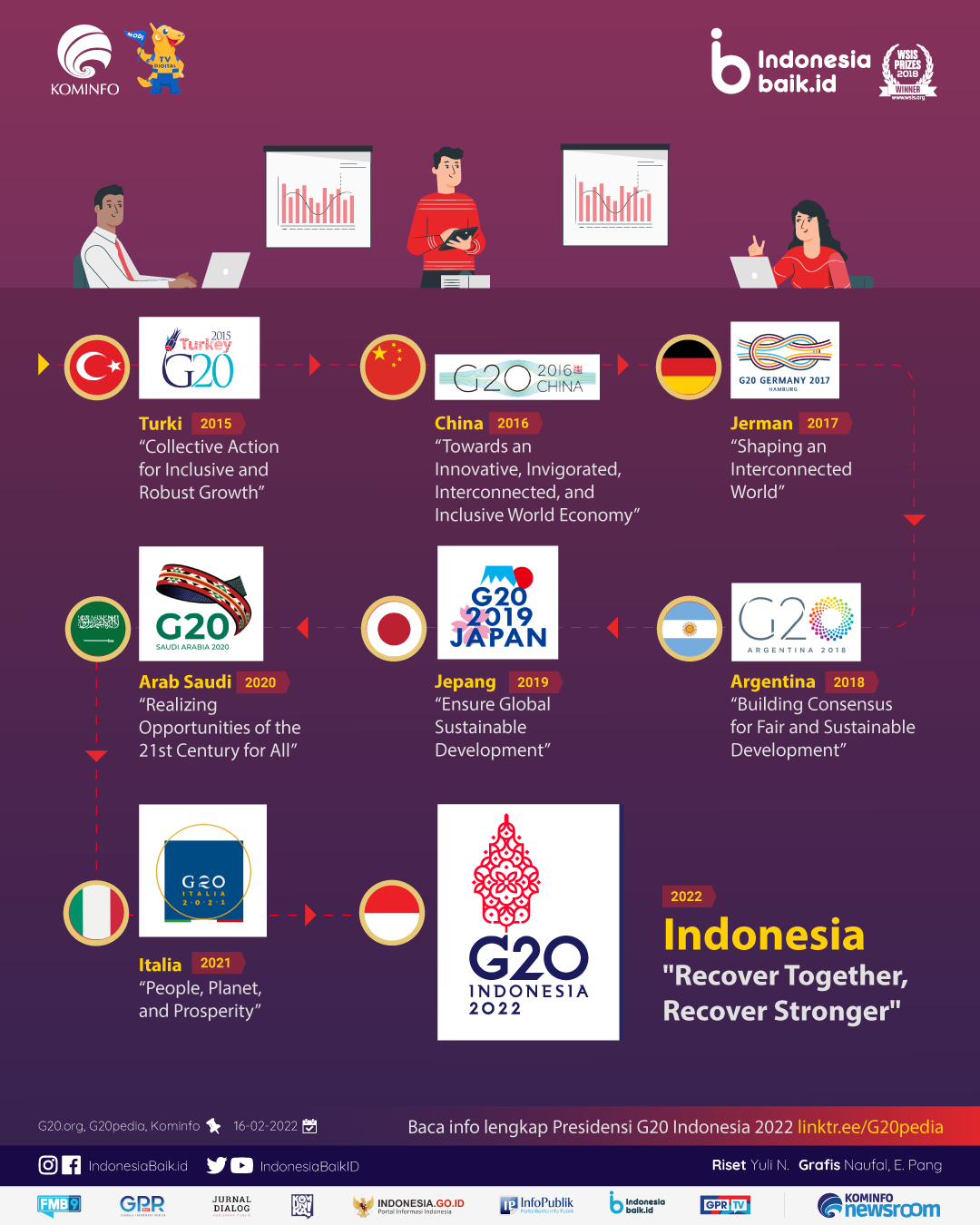 indonesiabaik.id - Saat ini Indonesia secara resmi sebagai Presidensi G20 dan menjalankan peran ini sejak 1 Desember 2021 hingga akhir tahun 2022 nanti, tepatnya pada saat serah terima kepada negara kandidat Presidensi G20 berikutnya, yakni India.
Gelaran G20 kali ini mengangkat tema "Recover Together, Recover Stronger". Indonesia akan fokus pada tiga hal. Ketiga hal tersebut adalah penanganan kesehatan yang inklusif, transformasi digital, dan transisi menuju energi berkelanjutan.
Indonesia baru pertama kali ini ditetapkan sebagai Presidensi. Sebelum penyelenggaran G20 telah berganti-ganti ke berbagai negara. Berikut ini daftarnya:.
Tahun 2008 di Washington, Amerika Serikat
"Financial Markets and The World Economy"


Tahun 2009 di London, Inggris
"Stability, Growth, Jobs"


Tahun 2009 di Pittsburgh Amerika Serikat
"From Crisis to Recovery"


Tahun 2010 di Toronto, Kanada
"Recovery and New Beginnings"


Tahun 2010 di Seoul, Korea Selatan
"Shared Growth Beyond Crisis


Tahun 2011 di Cannes, Perancis
"Building Our Common Future: Renewed Collective Action for The Benefit of All"
Tahun 2012 di Los Cabos, Meksiko
"Promoting Growth and Job"


Tahun 2013 di Saint Petersburg, Rusia
"Boosting Economic Growth and Job Creation"


Tahun 2014 di Brisbane, Australia
Acting Together to Lift Growth and Create Jobs, Building a Stronger, More Resilient Global Economy and Strengthening Global Institution"


Tahun 2015 di Antalya, Turki
"Collective Action for Inclusive and Robust Growth"



Tahun 2016 di Hangzhou, RRT
"Towards an Innovative, Invigorated, Interconnected, and Inclusive World Economy"


Tahun 2017 di Hamburg, Jerman
"Shaping an Interconnected World"


Tahun 2018 di Buenos Aires, Argentina
"Building Consensus for Fair and Sustainable Development"


Tahun 2019 di Osaka, Jepang
"Ensure Global Sustainable Development"


Tahun 2020 di Riyadh, Arab Saudi
"Realizing Opportunities of the 21st Century for All"


Tahun 2021 di Roma, Italia
"People, Planet, and Prosperity"


Tahun 2022 di Bali, Indonesia
"Recover Together, Recover Stronger"
Informasi selengkapnya bisa SohIB pelajari unduh di tautan linktr.ee/G20pedia